VOTERS REJECT PLAN TO BAN COMMUNISM
The referendum to change the Australia Constitution to ban the Communist Party has been defeated.
Voting totals at the close of counting last night stood: No, 2,075,674 ; Yes, 1,962,209 ; majority for No, 113,465. At present, Yes leads in three States, but the big No majorities in the other three cannot now be overtaken.
The Referendum required voters to cast a Yes or No vote to the question: Do you approve of the proposed law for the alteration of the Constitution entitled 'Constitution Alteration (Powers to deal with Communists and Communism) 1951'?
The campaign surrounding the referendum has seen a fervent campaign by the Prime Minister, Mr Menzies, for the Yes vote to ban the Communist Party. The campaigning of the Opposition Leader, Dr Evatt, seems to have tipped the o vote over the line.
Supporters of the changes to the Constitution have argued continuously that the government must be given special powers to deal with communism to prevent any further damage to national industry and the national economy. Meanwhile those against the changes have stressed the imposition the legislation would have on civil liberties. Dr Evatt has particularly emphasised that the change to the Constitution would give the government too much power, reverse the burden of proof, and that it is undemocratic in its approach.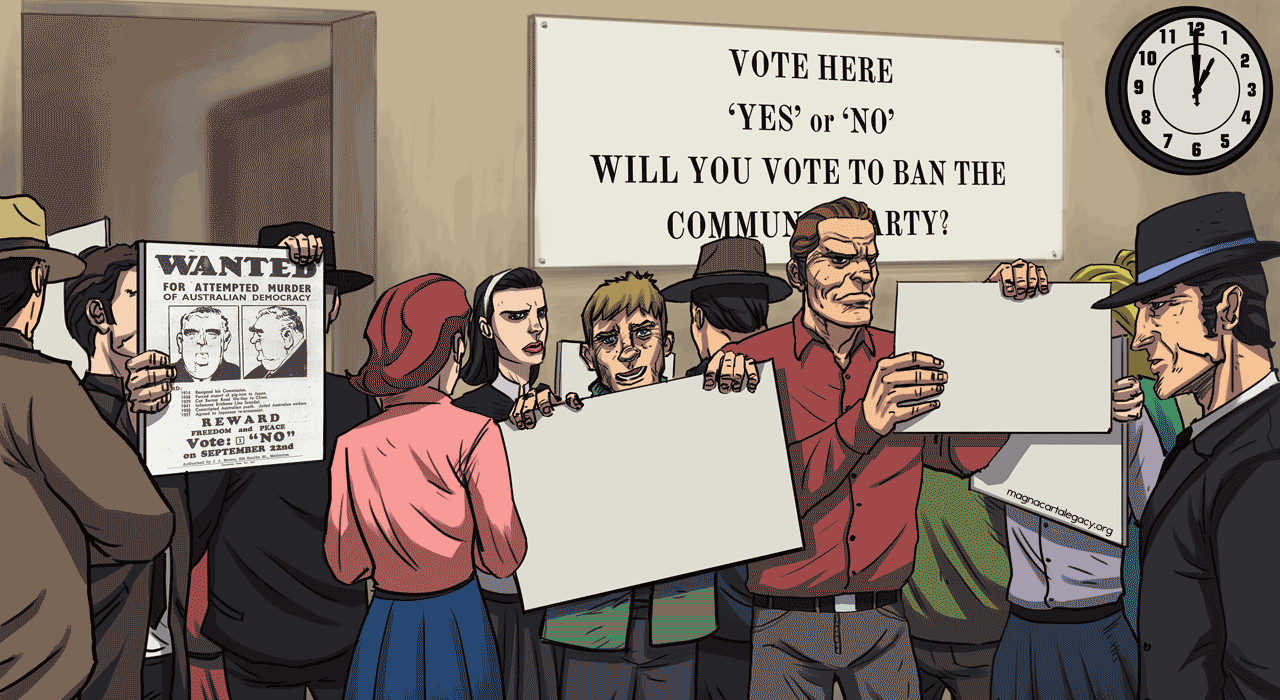 Mr Menzies issued the following statement on confirmation that the referendum had been defeated:
"Our people, most of whom detest Communism, have voted to refuse the Commonwealth Parliament legislative power over Communism. As a democrat, I respect and recognise the popular voting. As a result, however, I fear the decision will encourage Communism and handicap the Government in its fight against these unaustralian elements.
The honesty of the people's approach is unquestioned, but I am bound to express my belief that they were misled by a wicked and unscrupulous No campaign.
There is also in this vote a further proof of the fact, demonstrated in every previous referendum in our history, that no amendment of the Commonwealth Constitution can be carried if the Parliamentary Opposition is against it.
With such powers as it has, the Government will now vigorously resume its interrupted labours in the fields of economics and financial administration. It also believes that it can reasonably ask the people themselves to make a special effort to resist Communist interference with national production and to contribute that; measure of energy and creative work that our problems call for.
After all. the fewer powers of Government, the greater the responsibility of the people themselves."